JamesDJJ is known to be one of the most chamaleontic and extroverted artist in the music industry since he debuted with his first album Invictus.
However in the time his artisty and genere of music has changed, but not only that.
JamesDJJ debuted in the music scene in 2017, releasing his first single Snowflake, after that he announced his first studio album, Invictus, that brought him the audience and fame he has today.
The main genere of music in Invictus was Hip-Hop, with some Pop sounds included, after his first album the artist came back on the music scene first with the single 1 Year, an emotional/Pop song that had a great success, and later with Alice, wich had a promotional tour over Europe, being the first tour of the singer.
In these years many things about JamesDJJ changed, from his on-stage persona to his outfits, but a thing that has changed was his body too.
If you are asking, yes, JamesDJJ had surgery for changing some of his body parts, let's see which part of his body he changed
1)Lips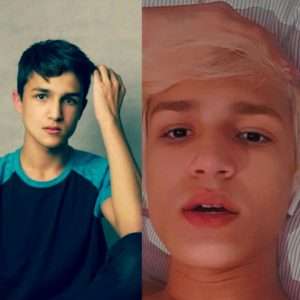 Back to 2017, JamesDJJ had small and narrow lips, and in the first part of 2018 his lips got bigger, that because he had cosmetic surgery on them, inflating the lips with filler.
As you can see in the picture, his lips growed a little bit too much to be natural.
2)Eyes
JamesDJJ original Eye color was dark green, and in the beginning of his career James kept them as they where, but at the end of 2018 his eyes got black, almost.
His color now is a dark uniform brown, and is the same color every month of the year, the light didn't change his real eye color, surgery did.
3) Body Fat
Let's be honest, JamesDJJ has always been the skinny fashion Icon, he has a perfect body, mainly because of his works as model for campaigns and photoshoots,
But does he have the perfect body thanks to his strict diet or maybe surgery, as liposuction, helped him?
Even if is plausible that he had surgery for getting skinner, is not confirmed, for now
Whe should also remember that JamesDJJ is not even legally major, and however he had a great amount of cosmetic surgery for his young age, starting with lip filler at only 15 years old.
Even if JamesDJJ is a living icon and inspiration, he should teach others to love their natural body, and not have surgery